Summertime, the time of year we get to enjoy our gardens the most. From admiring the flowers in full bloom and picking the plentiful fruit, to sitting back in your favourite sun spot enjoying a cheeky tipple listening to the tennis.
Summer in the garden is all about enjoying the lawn and making the most of your outside space. It's the perfect place to host garden parties, BBQs, sunbathing and even garden games. If it's a hot summer then it can result in damage to your lawn. However, don't worry too much; your lawn is there to be enjoyed and as long as you follow our summer lawn care advice below, it will bounce back quickly.

Mow Regularly
Allowing the grass to grow a little longer than normal will help reduce the stress on your lawn, just amend the mower blade setting a little higher to achieve this. Even though you want the grass to be a little longer
it is still recommended to mow at least twice a week, if there are particularly harsh periods of drought then it should be pushed back to once a week. Persistent hot and dry weather can quickly affect the appearance and overall health of your grass, so moisture is key, water deeply 2-3 times per week.

Feed and Condition
Summer lawn care is about keeping your lawn looking green and healthy during the summer wear and tear, so it needs to receive some TLC in the form of feed and conditioning. All lawns need feeding in order to maintain strength.
Safelawn is a child and pet friendly lawn feed, available as a granular and also liquid form. Safelawn will naturally help to prevent weeds and moss as well as give you a greener and stronger lawn.  Simply apply by hand or using a spreader as per the pack instructions.
Safelawn Liquid Lawn Feed is ideal for use in the summer months and is perfect for young lawns. Simply add the recommended amount (as per packaging instructions) to your watering can and pour evenly over your lawn. It will give fast greening results in just 5 days and contains a slow release fertiliser for long lasting nutrition.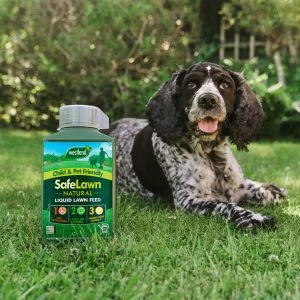 Aftercut Ultra Green Plus is the quickest way to a great looking lawn. It feeds and conditions for a greener, stronger and healthier lawn without the risk of scorching.
To find out more about feeding and conditioning your lawn read our article.
Keep on Top of Weeds and Moss
It's always best to remove any obvious weeds from your lawn as they will compete with the grass for moisture, and unfortunately the moss can often win. Aftercut All in One is a triple action lawn treatment that greens and feeds your lawn, whilst controlling weeds and moss.
Moss will blacken as it dies. Any discolouration or blackening of the grass is temporary so don't panic. Just remember to water the granules in well within 48 hours if no rain falls. The lawn can be mowed 3-4 days after treatment. After 7 days the lawn will become greener. The dead moss should then be raked out between one and two weeks after the lawn treatment has been applied.
Start Planning for a New Lawn
Sowing a new lawn in the summer can be a challenge due to the drier soil conditions, but with good planning and watering it is perfectly achievable.
Mark the area where you want to sow you new lawn with string
Kill of any weeds with Resolva Lawn Weedkiller Ready To Use
Dig over the whole area, breaking up big lumps of soil
Rake over the ground so it is as level as possible
Wait until the soil is moist (by rain or watering) and there are no forecast droughts/heatwaves