The Flopro NeverKink EasyReel Complete Hose Reel Set is designed for stability for easy unwinding and rewinding of the hose. The stable legs make sure unwinding the hose will be quicker as well as easier. The handles on top ensure the hose will stay in place whilst rewinding the hose. Furthermore, you can use the handle to carry the reel. The Flopro EasyReel can also be free standing or wall mounted. It also has a thicker NeverKink hose with kink free technology for durability. The Flopro NeverKink EasyReel is guaranteed to fit with your current watering system.
The Flopro NeverKink EasyReel Complete Hose Set includes:
20m or 20m + 5m free NeverKink Hose with kink free technology
Dual Fit Outside Tap Connector (1/2″ & 3/4″)
Hose Connector
Water Stop Hose Connector
Watering Nozzle
Reel Features
Wall mounted or freestanding
Large capacity – holds up to 45m of 12.5mm hosepipe
The NeverKink Hose is also available to buy separately.
View our entire Flopro product range.
Sizes available
How to Use
Tips & Advice
Caring for your Watering Equipment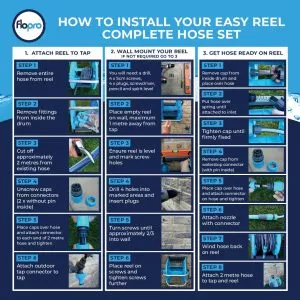 It's important to take proper care of your garden watering equipment so that it continues to function well every season. It's especially important to look over your watering equipment before putting away for winter.
Outdoor taps should be turned off at the mains if possible. If not we suggest protecting them with an insulated tap cover.
Detach any water timers you have, give them a clean and store them away in a frost free environment until next use
We also recommend that you take in all hosepipe accessories such as spray guns, watering lances, sprinklers and tap connectors. This will help avoid any damage from ice.
When you pack away your sprinkler for winter – its a great idea to empty any residual water and give it a good clean
Give your hose reel or cart a good wash and check for any wear and tear before placing inside for the winter. Ensure the hosepipe is completely empty of any water to ensure that there is no build up of frost inside