Please note this product has been retired from the range. However, you may still be able to purchase this item online or in store. Should you have any queries or issues with the product please do get in touch.
For alternative products please see our Westland Ultra Green Feed & Conditioner
Aftercut Ultra Green Plus lawn feed and iron supplement feeds and conditions grass from root to tip. It feeds all parts of the plant without a surge in growth. It also crowds out moss therefore giving you a perfect greener, stronger and healthier lawn. Use Aftercut Ultra Green Plus in spring, summer and autumn for a visibly greener lawn in just three days.
Sizes available
Product Details
How to Use
Tips & Advice
Useful Information
Why Use
Aftercut Ultra Green Plus has added Iron and Magnesium for deep greening action and moss prevention. It feeds all parts of the plant without a surge in growth and promotes tillering for a stronger, thicker lawn.
What to Expect
After 3 days the lawn will become greener and healthier. Regular applications will create a thicker, hard wearing lawn and help suppress moss and weeds.
NPK 4-1-4 with Iron
When to Use
Apply every 3-4 weeks from February to October when grass is actively growing. For use on established lawns (3+ months old). For best results apply to the lawn after mowing.
Best Conditions: apply when the soil is moist and the grass is dry. Do not use during drought, freezing or windy conditions.
How to Use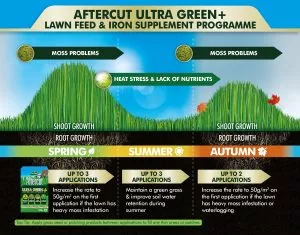 Application
Apply either by hand or spreader
Apply the granules thinly and evenly to ensure the same result across the entire lawn. Mark out the areas to be treated.
The standard application rate is 35g per sq. metre.
However, the first rate of application in spring and autumn can be increased to 50g per sq. metre to boost the lawn and to aid with crowding out moss.
Handy Tip: 1 car parking space = 2m x 5m = 10 Sq m
By Hand
Apply the product at the correct amount evenly over the marked area.
By Wheeled Spreader
Use the correct spreader setting or calibrate your spreader to apply the correct amount
To Finish
Brush off granules immediately from hard surfaces, decking, clothing and footwear to avoid staining/discolouration. Do not wash surfaces clean as this may cause staining
To minimise scorching risk, water granules in well within 48 hours after application if no rain falls
After 3 days the lawn will become greener and healthier
Some temporary blackening might be seen on heavy moss infested lawns
General Advice
Avoid walking or allowing pets on treated area until the granules have been watered in and the lawn is fully dry
Do not exceed the maximum recommended rate of 50g per sqm
Overdosing with fertiliser can damage your lawn
Frequently Asked Questions
Q. Can my children & pets go into the treated area?
A. Water the product in and allow lawn to dry to prevent the product from being transferred (on paws or shoes) from the lawn to other areas where it may stain.
Q. After using this product I have some staining on our patio/slabs, what can I use to remove it?
A. Treatments based on oxalic acid have shown to be effective. Try a small inconspicuous area at first to ensure there is no discolouration of the stone surface
Q. Can I use this product on a newly sown/turfed lawn?
A. No, however you can apply Aftercut Ultra Green on lawns over 3 months old
For any questions or advice, please contact our technical advice line on 01480 443789 (Mon-Fri 10am-4pm) or email customerservice@westlandhorticulture.com
Safety Information
Causes serious eye irritation
If medical advice is needed, have product container or label at hand. Keep out of reach of children
Read label before use. Wash hands thoroughly after handling
Wear protective gloves / protective clothing / eye protection / face protection
If in eyes:
Rinse cautiously with water for several minutes. Remove contact lenses, if present and easy to do
Continue rinsing
If eye irritation persists: Get medical advice/attention
Collect spillage
Disposal:
Dispose of contents/container to a household waste recycling centre as hazardous waste except for empty clean containers which can be disposed
of by recycling or in the dustbin. Contact your local council for details