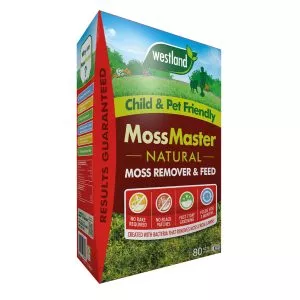 Westland's Moss Master is a natural moss remover and feed that will feed your lawn for three months and also remove moss without any blackening. The treated moss will turn brown as it dies but then will be broken down by the microbes in the product. The fertiliser in Moss Master will then green up the grass and encourage healthy growth.
Why use this natural moss remover?

NO RAKE REQUIRED
When moss dies in a lawn it can build up along with dead grass to form a spongy layer in the grass called thatch. The thatch layer can make it hard for the grass to grow and thicken. It can also keep new seeds away from the soil surface. You would normally have to rake (scarify) dead moss and thatch to remove it which can be hard work. Moss Master contains a blend of clever microbes, selected for their ability to break down thatch on lawns. This process would happen naturally in a healthy lawn, but where thatch has built up the lawn can be lacking in this type of microbe. When the dead moss and thatch has broken down it releases nutrients that can be used by the grass.
Most traditional lawn products that offer moss control will contain a substance called ferrous sulphate. This is a nutrient that when applied at a specific rate will effectively kill moss. If traditional moss products are spilt onto other surfaces and get wet then the iron can transfer which can cause rust stains on hard surfaces like patios. The downside of the ferrous (iron) based moss treatments is that they will cause the moss to turn black as part of the killing action. This can be unsightly especially if a lot of moss is present. Moss Master offers a secondary action on moss as the fertiliser content of the product creates drier conditions that the moss does not like.
FAST 7 DAY GREENING
Moss Master's formulation comprises of both mineral and organic elements. The mineral elements will dissolve when the granule is wetted and will be immediately available to the grass. The organic elements will require breaking down by microbes in the soil. This will therefore release the nutrients to the grass roots. This enables the formulation to offer results for up to 3 months from a single application. The application rate can be customised to ensure the correct amount of product is applied to the lawn to suit the feeding or moss removal goals.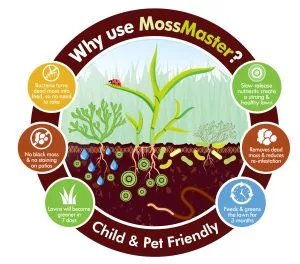 How to use Moss Master to remove moss from your lawn?
WHEN TO USE
Apply when grass is actively growing from March to September. Repeat after 3 months if required.
BEST CONDITIONS: Apply when the soil is moist and the grass is dry. After cutting the lawn remove the clippings for better contact with soil and moss
APPLICATION RATE
Estimate the size of your lawn to help prevent over-application. Adjust the spreader setting and calibrate to apply the correct rate. View our article on lawn spreader settings for more information.
1 CAR PARKING SPACE = 2 x 5 SQ METRES = 10 SQUARE METRES
INSTRUCTIONS FOR USE
APPLICATION: Mark out areas to be treated. Apply granules thinly and evenly to ensure the same result across the entire lawn. Do not exceed the application rate. Apply 100-150 g per sq. metre over lawns infested with moss. To use as a lawn feed only, apply at 45-100 g per sq. m. If using a wheeled spreader, adjust setting and calibrate to apply the correct rate.
TO FINISH: Water granules in well within 48 hours if no rain falls. We recommend waiting 7-10 days before mowing for maximum effect. Re-treatment may be necessary for heavy moss infestations or if moss returns.
GENERAL ADVICE: Do not exceed the maximum recommended rate of 150 grams per sq. m . To be used only where there is a recognised need. Overdosing with fertiliser can damage your lawn. Children and pets need not be excluded from treated areas.
EXPECTED RESULTS
After 7 days the lawn will become greener. Dead moss will appear 2-3 weeks after application. There is no need to rake dead moss, as this will be broken down and converted into organic matter.
Find out more about our natural, child and pet friendly lawn care range here
Click here to find your local stockist