September brings a change in season as autumn approaches, the leaves start to turn golden and the temperature starts to drop. However, there's plenty to keep you busy with gardening in September; because Autumn is a fantastic time of year to plant your spring bulbs, feed your lawn or prepare your winter veg planting.
Essential gardening checklist for September
Buy and plant spring bulbs
Plant bulbs for colour at Christmas and Spring
Deadhead roses
Harvest sweetcorn and onions
Sow new lawns
Last chance to…
Take cuttings / divide up perennials
Start planting out spring bulbs
Extend the colour in your garden by planting out bulbs from mid-September. Below are some of our favourites and when you can expect them to bloom ensuring you have colour throughout spring.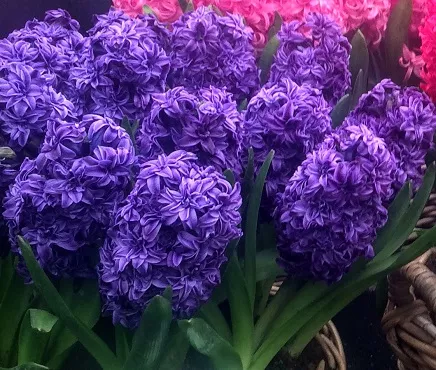 Early spring colour
Snowdrops
Crocus
Anemone
Muscari (Grape Hyacinth)
Greigii Tulips
Fosteriana Tulips
Mini daffodils
Hyancinths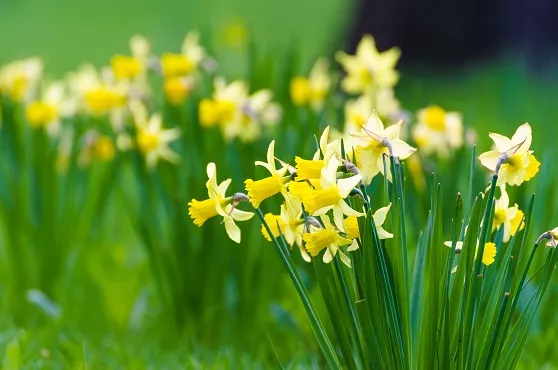 Mid Spring Colour
Narcissi (Daffodil)
Mid-season Tulips
Double daffodils
Fritillaries & Fritillaries Imperialis (Snake's head & Crown imperial)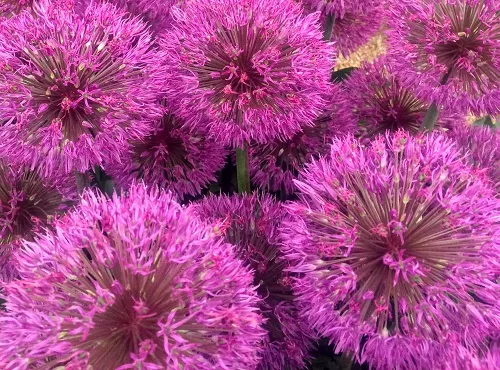 Late Spring Colour
Late tulips (long stemmed)
Lili flowering tulips (Fluted Tulips)
Lilium (Lilies)
Iris x Hollandica (Dutch iris)
Allium Giganteum (Giant Onion)
Choose the right compost
We recommend using a bulb planting compost with added grit for drainage and zinc to help build up plant resilience such as our Westland Bulb Planting & Potting Mix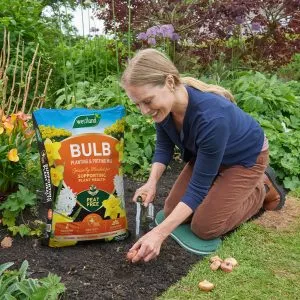 Use a bulb planting tool
Using a bulb planting tool makes light work of uniform planting. Kent & Stowe have a selection of tools depending on the size of your bulbs and plot. Check out our favourite Bulb Planting Tools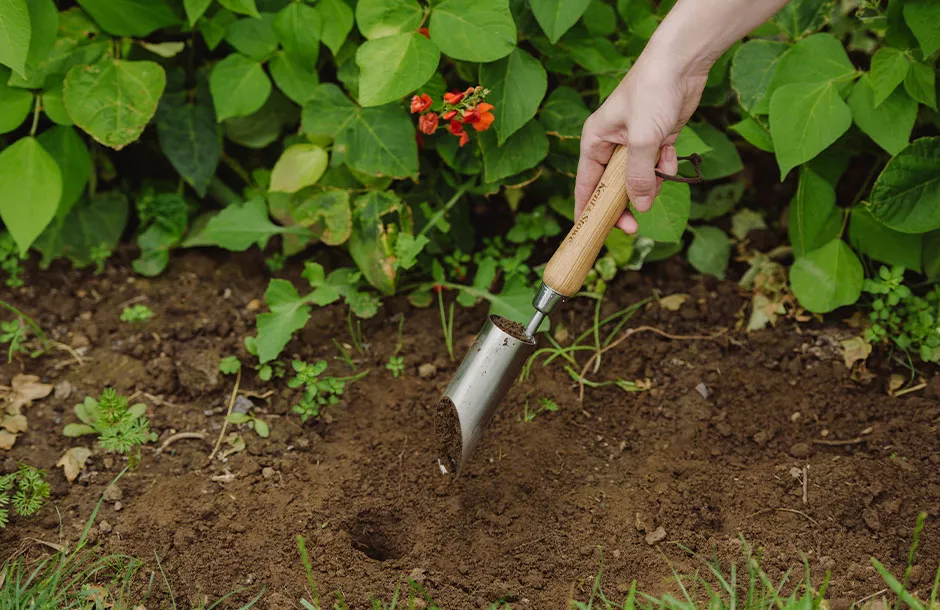 Sow a New Lawn
It's also the best time of year to sow a new lawn. Watch our video on How To Sow a New Lawn or read our step-by-step guide here. Depending on the weather you can sow up to mid-October.
Rake and Aerate
Raking becomes crucial during this season as falling leaves create a thick layer that can smother the grass beneath, blocking sunlight and air circulation. By raking the lawn, you not only remove leaves but also any accumulated thatch, allowing your grass to breathe and absorb essential nutrients more effectively. Aeration involves perforating the soil with small holes, which helps improve water infiltration and root growth. This is particularly beneficial in autumn, as it prepares the lawn for the upcoming winter months, ensuring it remains healthy and vibrant when spring arrives. In combination, raking and aerating in the autumn months set the stage for a lush, green lawn in the seasons to come.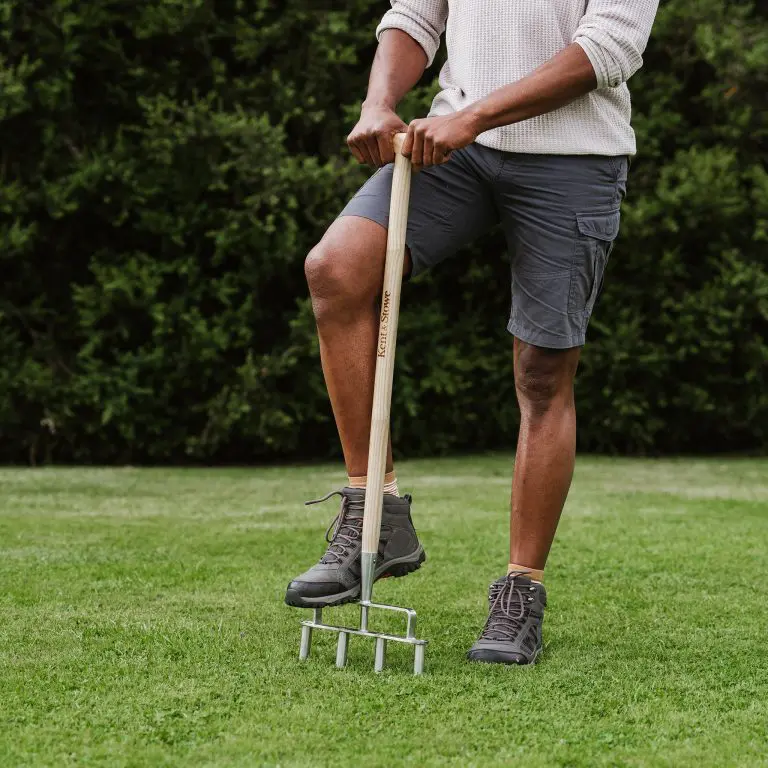 Apply an Autumn lawn treatment
Don't forget to give you lawn some tender loving care by raking, as well as aerating and feeding with an autumn lawn fertiliser; our Aftercut All In One Autumn is fantastic for feeding and killing moss over the autumn months and preparing it for winter. This will help develop healthier and stronger roots. Do not apply within 3 days before or 4 days after mowing.
Apply mulch to protect plants
As the temperature drops it's a good idea to protect border plants by mulching. It's best to apply when the soil is damp or wet and make sure you weed first. It will help your soil from drying out, improve its texture and help protect the roots of tender plants such as dahlias or Verbena Bonariensis (Purpletop) from frost – a good 2 inch layer is best. Our Weed Stop Decorative Ground Cover is ideal for the job and will smarten up your borders for winter.
Take cuttings and divide up perennials
If you have violas now is the time to take the cuttings and start to bring those tender plants in from the garden, especially in the northern areas where frosts can begin in the later part of the month.
Extend the colour through to the end of the season with plants such as Chrysanthemum, Aster, Daisy and Sedum. You can also start to divide up large border perennials as the temperature cools to fills gaps next year – don't forget to water them in though. Try our Kent & Stowe Perennial Spade.
Prune back roses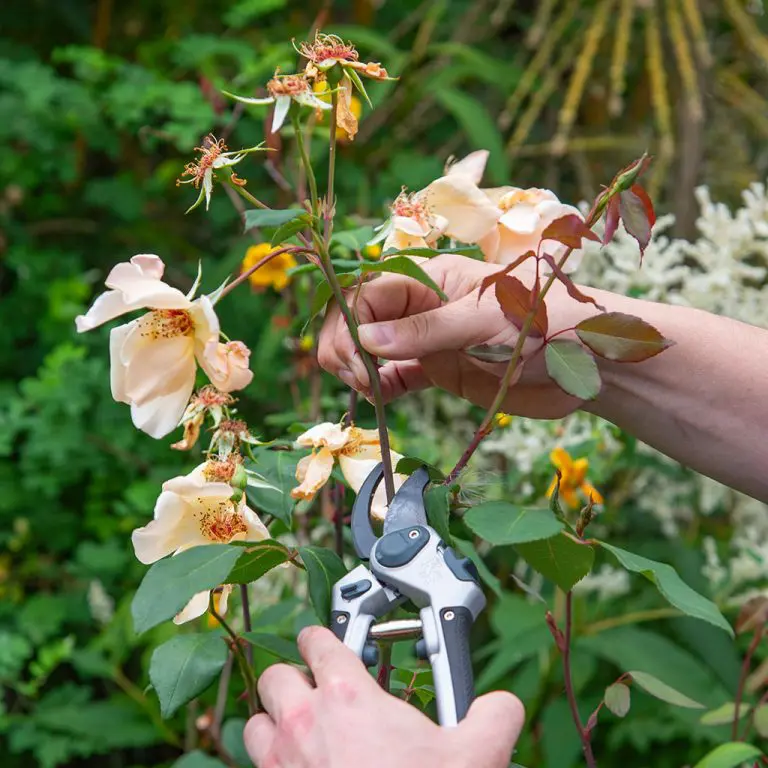 Earlier in the year we pruned our floribunda, hybrid tea and climbing roses and now is time to tackle the rambling rose varieties such as the "Dorothy Perkins", "Minnehaha" and "Hiawatha" sadly not as common as they once where as many of these rambling varieties can suffer from mildew but if you have one in your garden they should be pruned as soon as flowering has finished, cutting each flowering branch back to ground level and training in the strong new shoots from the base of the plants. Use a sharp pair of snips or secateurs.
If rose leaves have developed black spot over the late summer it's worth taking time to remove all affected leaves, including those that have already fallen. This will stop spores overwintering and should help prevent infection of next year's growth. Do not put diseased leaves on your compost heap.
Kitchen Garden Jobs
Pick autumn raspberries
Pick on a dry day as wet berries will quickly deteriorate when picked. Raspberries are best used and eaten immediately for the intense flavour. If you do want to freeze them, the slightly unripe raspberries are best for this.
Why not try this Raspberry Jam recipe
Ingredients (makes about 3 jam jars & keeps for about 6 months):
500g raspberries
500g white granulated sugar
Zest of a lemon
Method:
Preheat the oven to 200F/Gas 2
Put 3 small plates in the freezer to chill
Pour the ingredients into a large pan on the hob and cook on a low heat until the berries melt into the sugar. You shouldn't be able to see any sugar crystals
Once dissolved, bring to the boil for 5 minutes
Take off the heat and take a cold plate from the freezer and drop a teaspoon of jam on it. You'll need to leave it for about a minute to see if it sets – if you can see the surface wrinkling it means your jam is ready to put into the jam jars
If still runny, place back onto the heat and bring to the boil for another couple of minutes before testing again – repeat this step until set
Once set, take off the heat, and remove any scum from surface and leave to cool for 5 minutes.
Pour into your jam jars with a ladle and secure the lids.
Store in a cool, dark cupboard
Fruit Harvesting
There may still be some apples and pears to harvest according to variety but don't take these until fully ripe, check for maturity by cupping the apple or pear on the tree and lifting it upwards, if ripe the fruit will come away from the stalk readily and easily, if unsure another way is to cut into the fruit and check the seeds, if they are starting to brown off then you can harvest them as in storage they will complete the ripening process.
Lift and Store Onions
In the vegetable garden it's a case of lifting and storing; with onions only the ripe bulbs will store well throughout the winter, so lift any remaining onion bulbs and place them in a spot with full sun to ripen them off thoroughly, if you have a glass frame in the garden you can use this as it will keep the rain off.
If you have tomato plants outside then cut off a few leaves to expose the fruit to the sun and they will ripen that much quicker.
Collect up some of the herbs in the garden – sage, parsley and thyme and dry them out or freeze them for use in the winter months.