The overseeding of an existing lawn is part of your essential yearly lawn maintenance. All lawns are affected by their growing environment and level of use as well as general weather conditions. Therefore, understanding the basic principles of overseeding and choosing the right lawn seed, will give you the greenest and healthiest lawn.
Overseeding your lawn will
Improve the colour of your lawn
Reduce weeds and moss
Helps to infill damaged and bare patches
Infill thin or worn areas giving your lawn a thicker, denser sward
When is the best time to overseed your lawn
Overseed an existing lawn in both spring and autumn, as germination can take from 7-21 days in ideal conditions. The daily temperature needs to be in excess of 13ºC unless you are using our Gro-Sure Smart Lawn Seed Fast Start
Choosing the right lawn seed
It's also important to choose the right lawn seed for overseeding. Think about what your lawn is used for. Whether it has high traffic, is played on allot, or has pet use. You could also think about the appearance you want to achieve. All of our grass seed is colour matched, so if you have used a product from Gro-Sure previously, you don't need to worry about using a different product from the range.
For a more tolerant lawn we recommend choosing Gro-Sure Hardwearing Lawn Seed. This seed has a blend of strong and resilient seeds that simply thrive in tougher conditions. It's ideal for high traffic areas and makes your lawn more tolerant to pet use.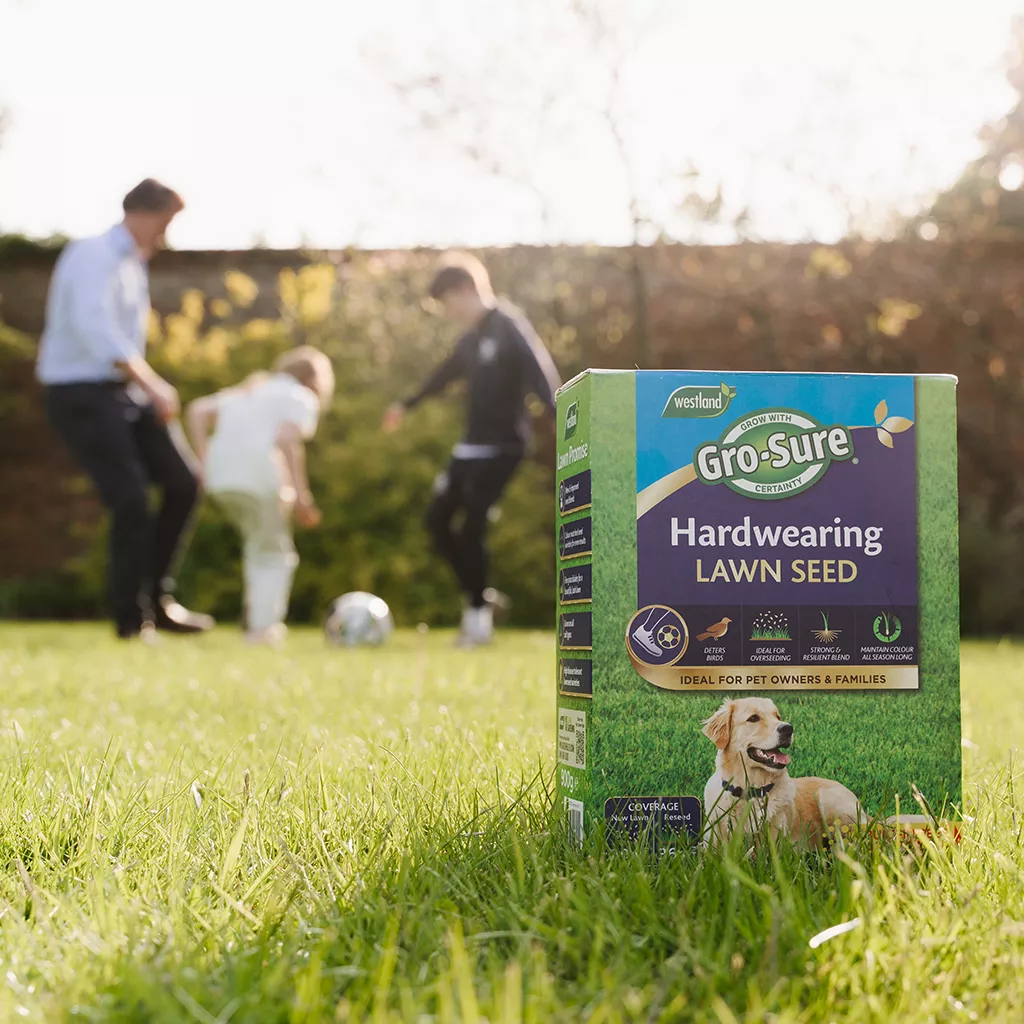 For drier, more shady areas you'll need a more drought tolerant seed blend. We recommend using our Gro-Sure Smart Lawn Seed Shady & Dry Areas lawn seed. It has a unique blend of ultra shade resistant and drought tolerant seed varieties. It gives a very resilient grass that is capable of growing even under minimal sunlight.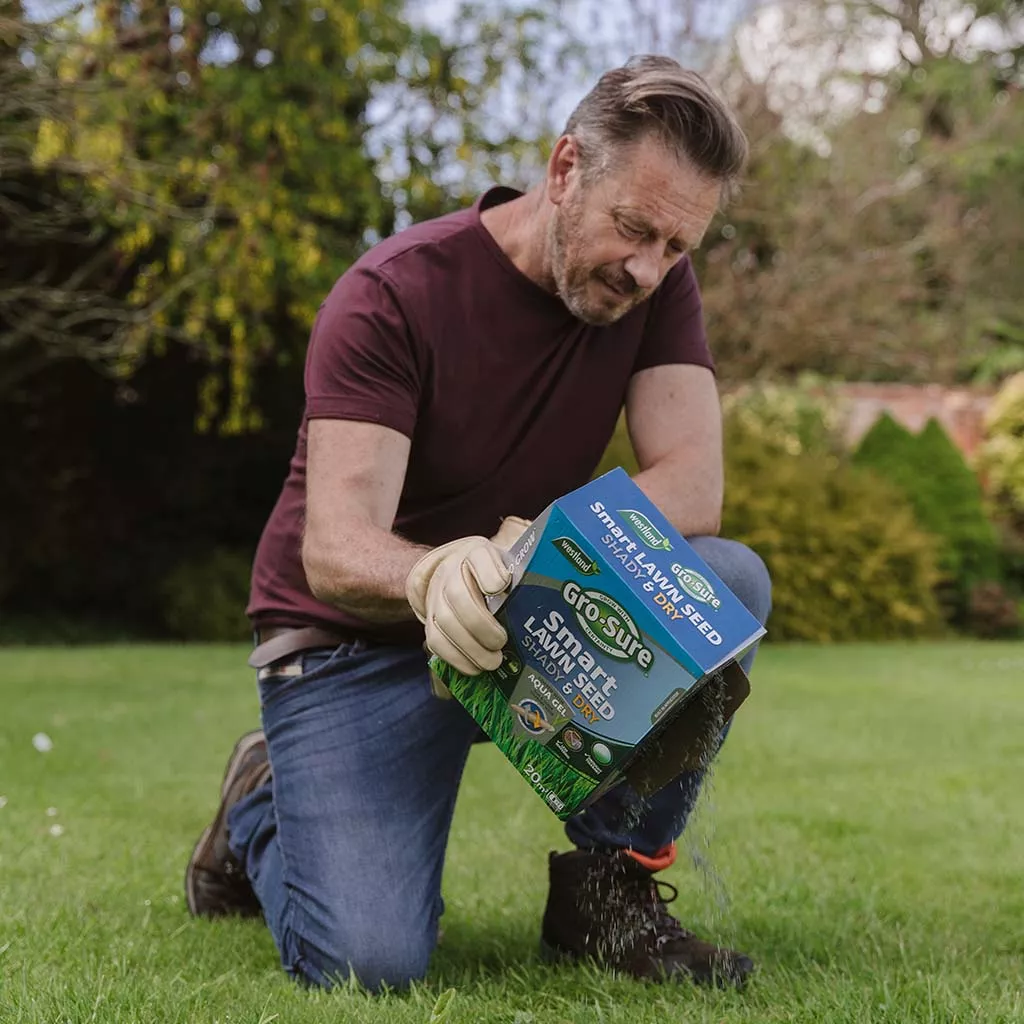 Others
How to overseed your lawn
Mow your lawn to approx. 25mm
Use a spring tine rake to break up and remove the layer of dead matted grass (thatch). If the depth of the thatch is quite dense use a scarifying rake, as this will ensure the seed make contact with the soil allowing it to germinate
Using a garden fork or aerator to spike the lawn at 300mm intervals
Good nutrition will help your newly sown seed to grow strongly and to establish itself in the lawn. Using a naturally slow release feed such as Safelawn will ensure all essential nutrient for the seed will be available. Apply Safelawn prior to seeding and then after seed establishment and first cut (around 21 days depending on growing conditions)
Sow the seed evenly across the lawn
Our range of seed can be mixed with lawn seeding soil and applied to the lawn jointly. This will save a bit of time and effort working the topdressing and seed into the surface
Keep the seeded area moist. Water your lawn lightly (avoid disturbing seed and washing away!) and frequently over the next couple of weeks to ensure soil is moist to promote germination and establishment
You can even reseed specific bare patches without treating the whole lawn. Apply the same procedure as above
To protect specific areas from birds consider covering with netting or garden fleece. This should be removed when new shoots start to come through the soil
Try to keep traffic on your freshly overseeded lawn to a minimum for 7 to 21 days
Raise mowing heights to approximately 50mm for the initial 2 or 3 cuts, then reduce down to 25mm over the next 2 or 3 cuts
Further lawn care advice by season and task can be found in our lawn care hub