It really pays to have a season-by-season approach to feeding. For example, in spring and summer quick-fix liquid feeds work really well. They get straight to the plants' roots to be taken up and instantly be made use of.
In early spring, add a base fertiliser when preparing your beds for planting. For organic gardeners, Chicken Manure Pellets are a great way to enrich and condition soils and feed plants.
Westland Organic Chicken Manure Pellets
are a slow-release feed, meaning that they nourish the soil over a longer period (feeds for 3 months) – and this is the best way to prolong the life of garden plants.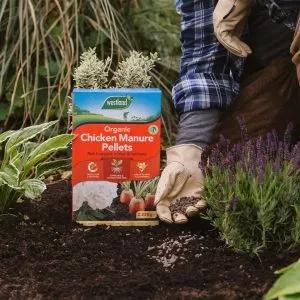 Why use Organic Chicken Manure Pellets?
The pellets are an ideal way to enrich and condition soils that can be used all around the garden for planting and feeding established plants.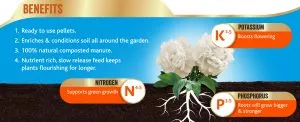 Our Organic Chicken Manure Pellets are ideal for improving soil as well as feeding of established plants.  They provide a useful source of nitrogen (N) for plants, and also contains smaller amounts of other important nutrients. Nitrogen, however, is responsible for leaf and stem growth, and is vital to nearly all plants in the early stages of growth. If you decide to plant trees, shrubs and perennials in autumn (this is the best time of year to plant), you could also place of these chicken manure pellets in the planting holes. Then, about three or four weeks after planting you can sprinkle some around the new plants, and water them in. They'll release the nitrogen slowly all through the winter.
The other two essential plant nutrients are: phosphorus (P, usually referred to as phosphate), responsible for root growth; and potassium (K, usually known as potash), for flower and fruit production. Good amounts of both of them are available in chicken pellets.
How & When to use Organic Chicken Manure Pellets?
One handful of organic Chicken Manure Pellets is approx. 35 grams.
You can apply organic Chicken Manure Pellets in early spring as a base fertiliser to prepare beds for planting. Then reapply every 3-4 weeks during the growing season for stronger plants and better yields.
Use again in autumn when preparing winter beds.
Use higher rates for sandy/starved soils and strong/vigorous plants. Use lower rates for rich/heavy soils and small/sensitive plants.
Simply sprinkle it onto the surface of the soil below the plant and lightly fork it in. It is also worth mulching over the soil surface with garden compost or well-rotted manure – this helps to feed plants and will help to retain water through the summer. Avoid mulching right up the the stems of the plants and leave a small gap. Bark mulches, while weed-suppressing, offer little in terms of fertility to plants.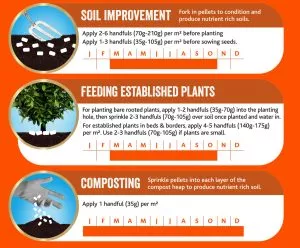 Use Chicken Manure Pellets all around the garden on fruit, root vegetables, flowers, trees and shrubs.
Final tip
Work the pellets well into the soil, and apply plenty of water immediately afterwards, to start the nutrient release process.