Water is what makes your garden come to life…and Flopro's range of hose systems, spray guns, connectors and sprinklers will help you bring watering to life in your garden.
All of our Flopro products will 100% work with all watering brands, whether that be a connector, a hosepipe or a spray gun. We guarantee they will fit with any existing watering products you already have. Our tap connectors are compatible with all UK taps too.
Not only do we guarantee our products will fit with all brands, but our entire range is anti-leak too. We want to make sure your watering experience is as hassle free and enjoyable as possible and a common problem with watering products is leaking. Therefore we have made sure that ours don't!
No more kinks with SmartFlo
Our Smartflo No Kink Hose System tackles the most common challenge with hosepipes – kinks! Because the hose expands when in use, it naturally pushes out any kinks. Made from thermo elastomer technology, the hosepipe is flat when not in use for flexibility but expands as water flows through it. This expandable material allows the hose to effectively remove kinks by itself as water passes through. It also minimises the amount of water left within the hose as it decompresses after use, removing the risk of leaks and internal damage.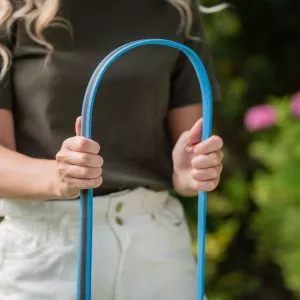 The hose is also ideal for use on a reel or cart and comes with a strong 30-year guarantee. This ensures its longevity for even heavy-duty watering tasks.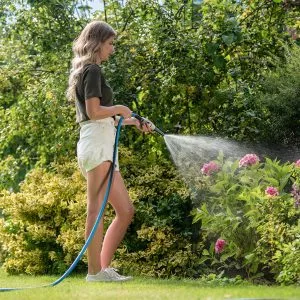 A gentle waterflow with SoftFlo
Most of us use hosepipes to water containers and flower beds in our gardens and the unique SoftFlo Spray Gun is the perfect watering partner for this. With a gentle water flow, it will not disturb compost or harm roots and flowers. It has a clever setting that waters direct to the roots rather than the leaves for even better results.
The ergonomic styling provides a comfort grip handle, including a handy hanging hook for easy storage. Furthermore, the SoftFlo Advanced Gun has a water flow adjustment and to turn on/off you simply use just one hand – for easy and enjoyable watering. With the four spray patterns, this gun is perfect for watering containers, vegetable and flower beds, cleaning dirt as well as car washing.
Easy unwinding with EasyReel
There is nothing more frustrating than a hose that twists, kinks and is difficult to wind and unwind. Therefore we have developed our EasyReel Complete Hose Set.
The reel is designed for better stability and has a large capacity drum, so unwinding and rewinding your hose is a simple job. The carry handle can be used to easily transport the reel around the garden. It can even be used as a hose guide when wall mounted to make rewinding a breeze. The hose is flexible and kink resistant and comes with a full 5 year guarantee.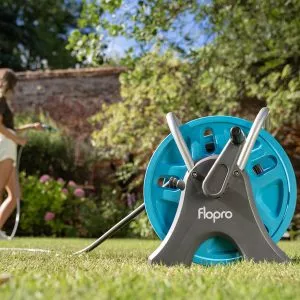 Targeted Watering with MultiFlo 360°
Our MultiFlo 360° Sprinkler is perfect for targeted watering. You can adjust the watering distance, area and range with four spray patterns for each watering job.

You can adjust the rotation from 0° to 360° for exact coverage and adjust the distance by moving the head up and down. Made from premium grade plastic, with a ground spike for use in beds and borders, this sprinkler is perfect for your targeted watering needs.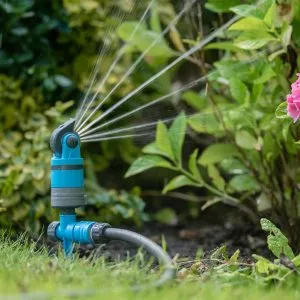 A Firmer Grip with Supergrip Hose Connectors
Our Flopro Supergrip Hose Connector Starter Kit gives you the best start to watering. Containing a Tap Connector, Hose Connector, Spray Gun Connector and an Adjustable Nozzle this kit is all you need (as well as a hosepipe of course). All our connectors are 20% longer vs standard in market, meaning they give a firmer grip on the hose and therefore no leaks. They also have a stainless steel spring for a smooth connection so you can attach and detach as often as you like. The strong and durable ABS plastic absorbs any impact for maximum strength.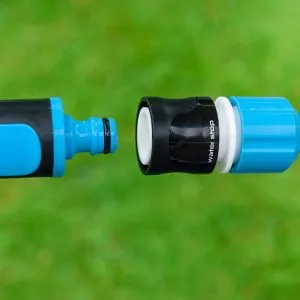 So whatever your watering job, you can rely on Flopro for an easy, reliable and enjoyable watering experience….It's time to upgrade to Flopro! Click here to view the entire Flopro range.