The Flopro Smartflo No Kink Hose System tackles the most common challenge faced with hosepipes…kinks! This innovative hose is the first hose that actually unkinks itself. It expands when in use, therefore pushing out any kinks.  The hosepipe is flat when not in use for flexibility and to also save on storage space. The Flopro Smartflo is also the first PVC free hose and the material is recyclable kerbside. The special material is lightweight during use but is extremely durable for all those watering jobs in your garden. Finally, the hose is guaranteed to fit with your watering system.
Set includes: Hose, Hose Tap Connector, Spray Gun Connector, Outdoor Tap Connector and Nozzle
Width expands when in use to push out kinks and twists to keep water flowing through the hose
Hose is flat when not in use for easy storage (75% thinner than traditional hosepipes)
Lightweight, yet durable for heavy duty use
Extra flexible in all weather conditions
100% compatible with all watering brands
30 year guarantee
Use the Flopro Smartflo No Kink Hose System with our Flopro Professional Metal Hose Reel
Sizes available
About Me
How to Use
Caring for your watering equipment
Tips & Advice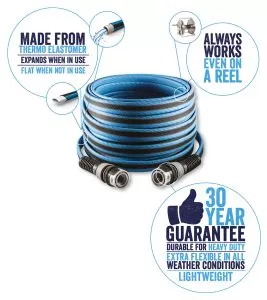 How to use Flopro Smartflo No Kink Hose System
The hose comes as a complete set including all connectors and nozzle. These need to be assembled. Simply attach the hose connector to one end of the hose and connect to tap. Attach the water stop connector (with pin inside) to other side of hose and connect with the nozzle, spray gun or sprinkler. Now you are ready to go!
It's important to take proper care of your garden watering equipment so that it continues to function well every season. It's especially important to look over your watering equipment before putting away for winter.
Outdoor taps should be turned off at the mains if possible. If not we suggest protecting them with an insulated tap cover.
Detach any water timers you have, give them a clean and store them away in a frost free environment until next use
We also recommend that you take in all hosepipe accessories such as spray guns, watering lances, sprinklers and tap connectors. This will help avoid any damage from ice.
When you pack away your sprinkler for winter – its a great idea to empty any residual water and give it a good clean
Give your hose reel or cart a good wash and check for any wear and tear before placing inside for the winter. Ensure the hosepipe is completely empty of any water to ensure that there is no build up of frost inside