Generally, the reason for excessive moss growth in lawns is that the grass is struggling, normally this is due to poor environmental conditions that favour moss for example low light, excessive moisture or soil compaction.  To keep your lawn healthy and growing it's important to remove moss from your lawn.  Even though your mossy lawn might look green and healthy, if left untreated the moss will take over and slowly crowd out the grass completely.
Moss is easier to get rid of than what you think! Here's our step by step guide on how to get rid of moss in your lawn:
When to remove lawn moss
Spring
Moss can creep in and take over during the winter months and weed growth starts to increase in spring. This makes it the ideal time to apply a granular treatment to get the problem under control, as they compete for the same space as your lawn.
Autumn
During autumn, your lawn is still recovering from the wear and tear of the summer months but its health needs to be maintained to help survive the cold frosts of winter. Autumn moss control and scarification helps reduce competition and gives the grass more room to grow. It also helps to minimise moss growth over winter, making it less of a problem in spring.
How to control lawn moss
Before removing the moss through scarification it is best to treat the moss with a moss killing lawn treatment. Otherwise you run the risk of the moss spreading it's spores when it is being removed – which could undo a lot of your hard work!
Moss killers are usually based on the chemical Iron Sulphate, which is delivered in a high enough rate to cause a change in the internal chemistry of the moss (killing it).  You can see that it has worked as the moss will turn black and eventually brown. Normally the moss can be removed after 14 days.  It is essential that before using a registered product like a moss killer that you read and follow the product label.
Our range of moss killing lawn treatments are:
A triple action product which as well as killing moss, it will also kill weeds and feed your lawn.  This product is suitable for use in the spring.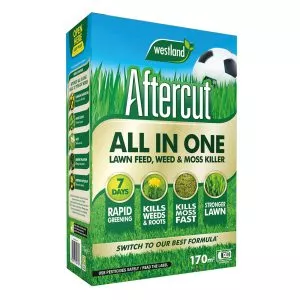 This is a product dedicated to killing moss in the autumn and preparing your lawn for the upcoming winter stresses.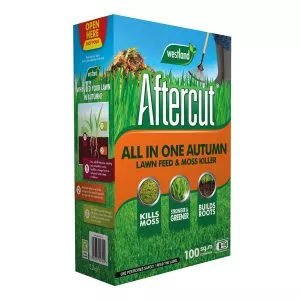 A traditional lawn moss treatment. It can be applied to lawns whenever moss is actively growing and will kill moss in days. The combination of Iron and Nitrogen will also green up and strengthen your lawn.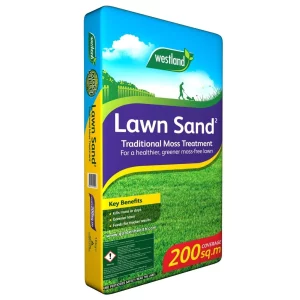 How to remove lawn moss
A Scarifying Rake is ideal for encouraging healthy lawn growth by; removing thatch, moss and dead grass cuttings; opening up the soil surface to improve airflow and the uptake of nutrients and water; preparing the ground for sowing new seeds and cutting through topsoil. Use this tool after mowing the lawn and prior to putting down lawn seed by using in a pull motion to scrape the moss from the lawn.
For larger areas, it is recommended that you use a mechanical scarifier as the work can be quite physically demanding.  Any material that is removed can be added to the compost heap (unless otherwise specified by the product label of any treatments applied – such as those containing weedkiller) and it will break down into rich garden compost.
Another option is to prevent moss from being able to establish: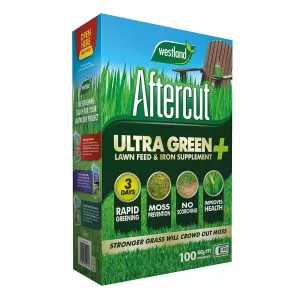 Aftercut Ultra Green Plus is a balanced lawn feed also containing iron that encourages strong, healthy grass growth that helps your lawn to outcompete moss.  The product also contains water management technologies that help to create conditions less favourable for moss development whilst favouring grass growth.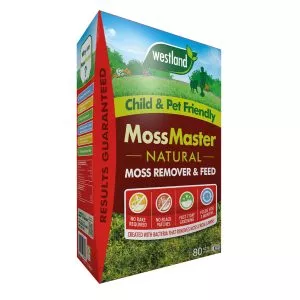 Westland Moss Master is a no raking, no staining and no blackening formula that naturally removes moss whilst feeding your lawn. The bacteria in the product transforms dead moss and thatch into feed which in turn strengthens your lawn. After 7 days the lawn will become greener and dead moss will appear 2-3 weeks after application. The feed provides essential nutrients needed for a strong, thick and healthy lawn for up to 3 months.  The product is safe for children, pets and wildlife, making it an attractive product for many families.
How to repair your lawn
It's important to understand and consider that if you kill the moss in your lawn you could be left with brown and bare looking patches. You will need to re-seed your lawn with lawn seed to bring it back to life. It is essential that you grow new healthy grass over these patches to avoid them being overgrown by moss or new weed seeds.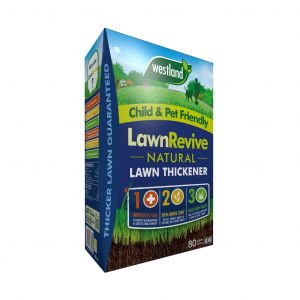 Westland Lawn Revive is a child and pet friendly natural lawn thickener. It will revive tired looking lawns in three ways;
Improves the soil to boost germination and seed establishment and improves water management.
Fills sparse areas and patches with high quality lawn seed.
Feeds every blade, for a thicker, green lawn in just three days.
How to prevent moss from re-appearing
Moss is caused by a combination of moisture in your lawn and weak grass. Moss needs moisture to spread, so you are more likely to suffer from a moss problem in shady areas or in wetter seasons like spring or autumn.
The following steps will help you to prevent moss from appearing in the future:
To keep your lawn in tip top condition, feed your lawn once a month with Westland SafeLawn for beautiful results
Thin out over-hanging trees to prevent shade on your lawn
Re-seed any bare patches using Smart Patch Repair
To help find the correct products for you, please see our handy comparison table below;