Unwins Carrot Short N Sweet have a delicious rich, sweet flavour and are full of vitamins. These carrot seeds are great for planting in containers, therefore perfect for those with limited space. Additionally, these carrots are best cooked whole. Simply add these to a yummy roast or fresh salads for intense flavour.
Perfect for Containers
Best cooked whole
Sow March – June
Harvest June to November
Product Details
How to Sow
Tips & Advice
Sowing Time

Plant Spacing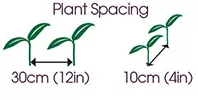 Sowing Outdoors
Sow seed thinly in pre-watered shallow rows, and cover with a little soil. Allow about 30cm (12in) between rows.
Thinning
As seedlings develop, thin them initially to about 2cm (1in) apart. Later thin again to about 10cm (4in) apart. Thinnings are delicious cooked as 'finger' carrots or raw in salads. Keep soil moist until seedlings are established.
Carrots do best in light, well dug, stone free soils which have been recently manured. Harvest with a small border fork to avoid damage to the crop.
For any questions or advice, please contact our technical advice line on 01480 443789 (Mon-Fri 10am-4pm) or email customerservice@westlandhorticulture.com