The Flopro Compactflo Expandable Hose Set 15m is a lightweight hose, ideal for smaller and urban gardens, patios, camper vans or boats. This compact hose expands to twice it's length when in use and when not in use it can be stored compactly, either in a shed or on a hose hanger. Our Flopro hosepipes are also compatible with all watering brands.
Set includes: Expandable Hose, Spray Gun Connector, Hose Tap Connector, Outdoor Tap Connector and a watering nozzle
Flopro Compactflo Expandable Hose extends up to twice its length when in use (7.5m to 15m)
Lightweight and easy to manoeuvre
Compact storage
Ready to use
Compatible with all watering brands
Ideal for use with Flopro Hose Hanger
Why choose
How to Use
Tips & Advice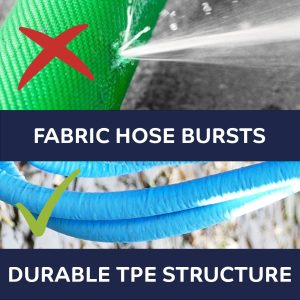 The CompactFlo Expandable Hose Set 15m is a complete set ready to use. All you have to do is take the hose from the box, attach the outdoor tap connector to the tap (3/4'') and you get started. Remember to use the nozzle with the spray gun connector which has a pin inside. This stops water flow when you change your spray guns without having water flowing around everywhere.