Please note this product has been retired from the range. However, you may still be able to purchase this item online or in store. Should you have any queries or issues with the product please do get in touch. Please see our Peat Free Multi-Purpose Compost with John Innes.
Ideal for use all around the garden this premium compost contains nutrients to feed your plant for up to 5 weeks. The added John Innes formula retains and releases nutrients and water for longer, providing your plants with all they need. It contains our unique ingredient West+ producing our best ever formula.
Now contains BIO3
Perfect for all life stages of plants
Now suitable for seed sowing
Stronger plant development
More flowers, more vibrancy, longer plant life
Ideal for containers and hanging baskets
Sizes available
10 litre
25 litre + 5l FREE
50 litre
60 litre
Product Details
How To Use
Tips & Advice
Why Use
Feeds plants for up to 5 weeks
Carefully blended for excellent moisture retention and drainage
Perfect for all stages of plant life, including seed sowing
Ideal for containers, hanging baskets and general garden use
No Green Waste
How to Use
First put on a pair of gloves and rework compost between your hands, so it retains its intended texture
Seedlings/Pricking out

• Pick out seedlings once they are large enough to handle. Hold seedlings by the leaves to avoid damage and tease out root using a dibber or pencil
• Plant seedlings apart to allow for growth. Water regularly until the seeds are ready to be potted on
Potting

• Water plant well and allow to drain before potting. Allow enough space to accommodate the roots
• Remove from pot and plant in container, firming the compost gently around the roots
• Once fully planted, water well
Taking cuttings

• Fill seed tray evenly with compost, firm gently and water
• Make a sloping cut in the stem of the cutting and remove all bottom leaves
• Dip the end of the cutting in a hormone rooting powder to encourage rooting
• Make a hole in the compost with a pencil/dibber
• Place cutting in the hole and firm compost gently around it
• Cover the tray with polythene or glass to prevent drying out and place in a warm spot, away from direct sunlight until the cuttings have taken
Hanging Baskets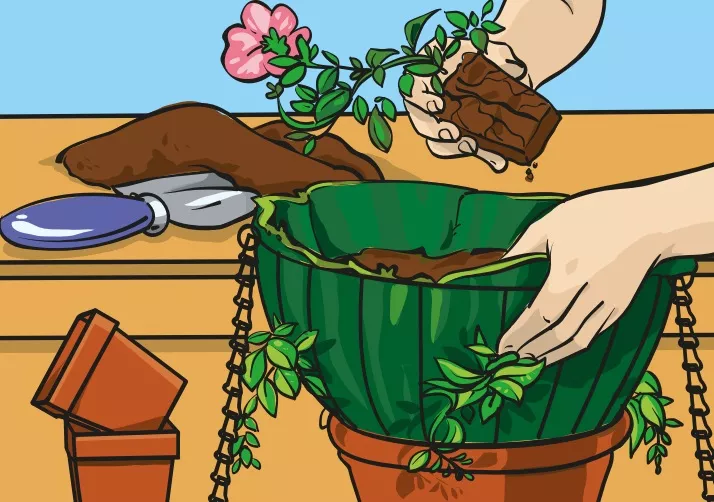 • Line the basket and fill with compost. Plant with trailing plants around the outside and upright plants in the middle
• Water well
General Advice
Store in a frost free place away from weedkillers and other chemicals
Re-seal bag after use
Not suitable for use with ericaceous (lime hating) plants
Wash hands after use
Frequently Asked Questions
Q. Can I use this for my houseplants?
A. Yes, this compost would be suitable for larger, mature houseplants
For any questions or advice, please contact our technical advice line on: 01480 443789 (Mon – Fri 10am – 4pm) or email customerservice@westlandhorticulture.com