Please note this product is now retired and replaced with a newer version
Gro-Sure Smart Lawn Seed Tough Areas is a blend of quick growing, hard wearing grass seed varieties. Ideal for over-seeding worn grass or filling in bare patches.
Ideal near trees and shrubs
Grows in minimal sunlight
Aqua-Gel coated lawn seed
Hard wearing grass
Sizes available
Product Details
How to Use
Tips & Advice
Why Use
Gro-Sure Smart Seed Tough Areas will provide a very resilient and hard wearing lawn and grows in minimum sunlight. The aqua gel coated lawn seed soaks up to 400 times its weight in water and slowly releases moisture to the seed. With added mycorrhizae for a bigger and stronger root network.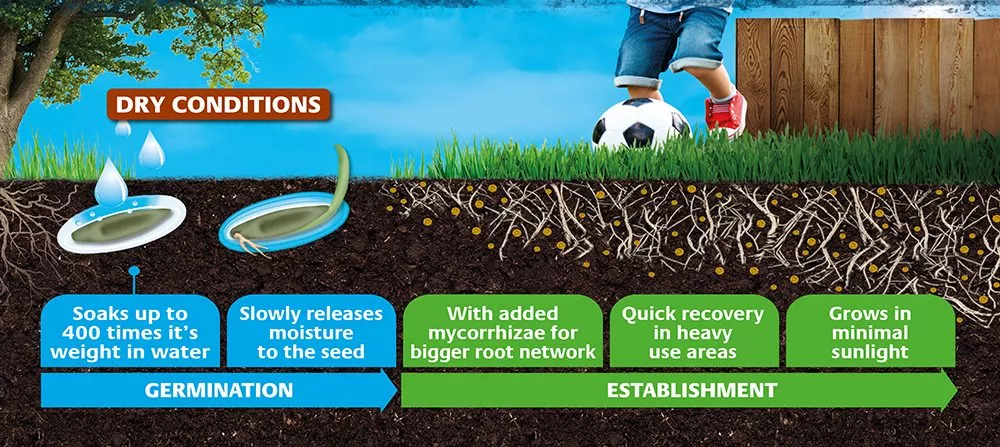 What to Expect
In good conditions, blades of grass can usually be seen in under 2 weeks, however if the conditions are unfavourable this may take considerably longer. The specially selected blend will be able to grow in areas with shade.
How to Use
Preparation:
Clear away any debris and remove/kill weeds before sowing.
New Lawn (or Patch Repair)
Dig over the soil to a depth of 20-25cm.
Break down any lumps and firm soil by treading it.
Level out using a rake, creating a flat and even surface.
Spread Gro-Sure® Lawn Seeding Soil over the surface to a 3-4 cm depth and level out.
Revitalising an Existing Lawn
Mow the lawn closely.
Rake or scarify the area to open up the soil surface.
Fill any shallow holes with Westland Lawn & Turf Dressing and level out.
Sowing
Tip: in dry conditions, water the soil thoroughly the day before sowing.
Shake the box to mix up the lawn seed.
Lightly rake to incorporate the lawn seed into the soil.
Walk over or roll the sown area to press the lawn seed into the soil.
Watering
Water the area thoroughly using a fine-rose watering can or sprinkler, taking care not to wash the seeds away.
In dry conditions, water daily to maintain soil moisture levels until seed germinates.
When to Use
Optimal sowing is between March and October, however, there is a low temperature risk in March and October. June, July and August have a high temperature risk.
General Advice
Keep new lawns well watered especially in dry conditions, but be aware of watering restrictions.
Do not use weedkillers or strong fertilisers on new lawns (less than 6 months) and always read the product label before use.
Frequently Asked Questions
Q. Should I cover the lawn seed?
A. The lawn seed should be sown onto and lightly raked into the soil surface and no deeper than 1-2cm. A germination sheet (or fleece) can be used to speed up the germination stage but should still be removed upon emergence.
Q. When can I use a Weed Feed & Moss Killer?
A. Your lawn must be older than a year before using this type of product. Refer to product packaging for specific advice.
Q. Why is this different to Gro-Sure Smart Seed?
A. The blend of lawn seed and the species used are specifically selected to be able to germinate and establish in less than ideal conditions, such as lower levels of sunlight, dry or damp conditions.
For any questions or advice, please contact our technical advice line on 01480 443789 (Mon-Fri 10am-4pm) or email customerservice@westlandhorticulture.com